Single Angled Roof Pergola Kit
Reinvent your backyard space with the GRID 30 Freestanding A-frame Pergola Kit. The TRIO 30 brackets join into the PEAK TRIO 30, providing you with a peaked roof, sure to be the centrepiece of your backyard. See sizing chart for reference of wood.  We advise consulting with your local building codes.
Toja Tip: Ensure lumber is fully inserted into the bracket cavity, resting on metal tabs for proper installation.
The GRID 30 Collection was designed and developed to allow you to build an angled and peaked roof pergola. GRID 30 brackets are not structural brackets or intended to have fixed roofs, customization or anything outside the intended and indicated use of pergola as shown. For anything outside our recommendation, we advise consulting with an engineer. Always check your local building codes, HOA, and municipal requirements in advance of building as they vary by city/state and region. 
* Please note items do NOT ship out kitted; they ship by part. The creation of Toja Grid kits is to simplify the decision-making process.
The parts included in kits ship as retail packages.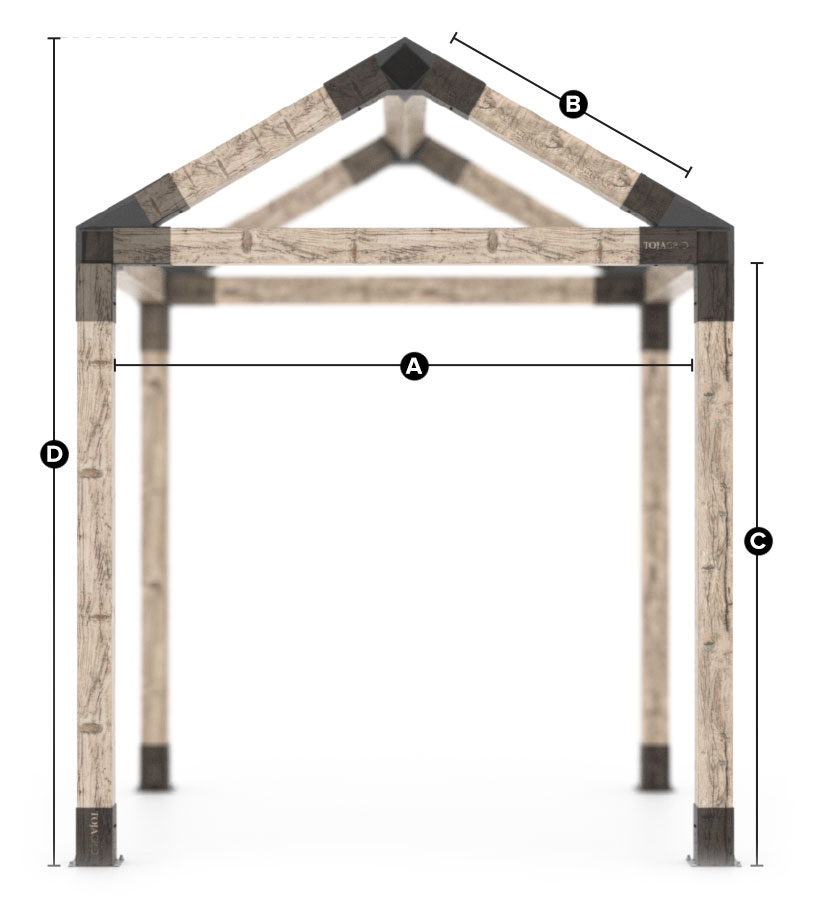 Peaked Roof Calculator for 4x4 Lumber
Take advantage of this lumber calculator to help guide you with your peaked roof pergola build from the GRID 30 Collection. Just enter the length/span of lumber (A) to determine the length/span for lumber required for peaked roof (B). Enter the length of lumber (C) to determine the total overall height (D) of your build.
A
What is your starting length/span of lumber? inch ( ft.)
B
The Length/Span of lumber will be inch ( ft.)
---
C
What is your length/height of lumber? inch ( ft.)
D
Overall pergola height will be inch ( ft.)